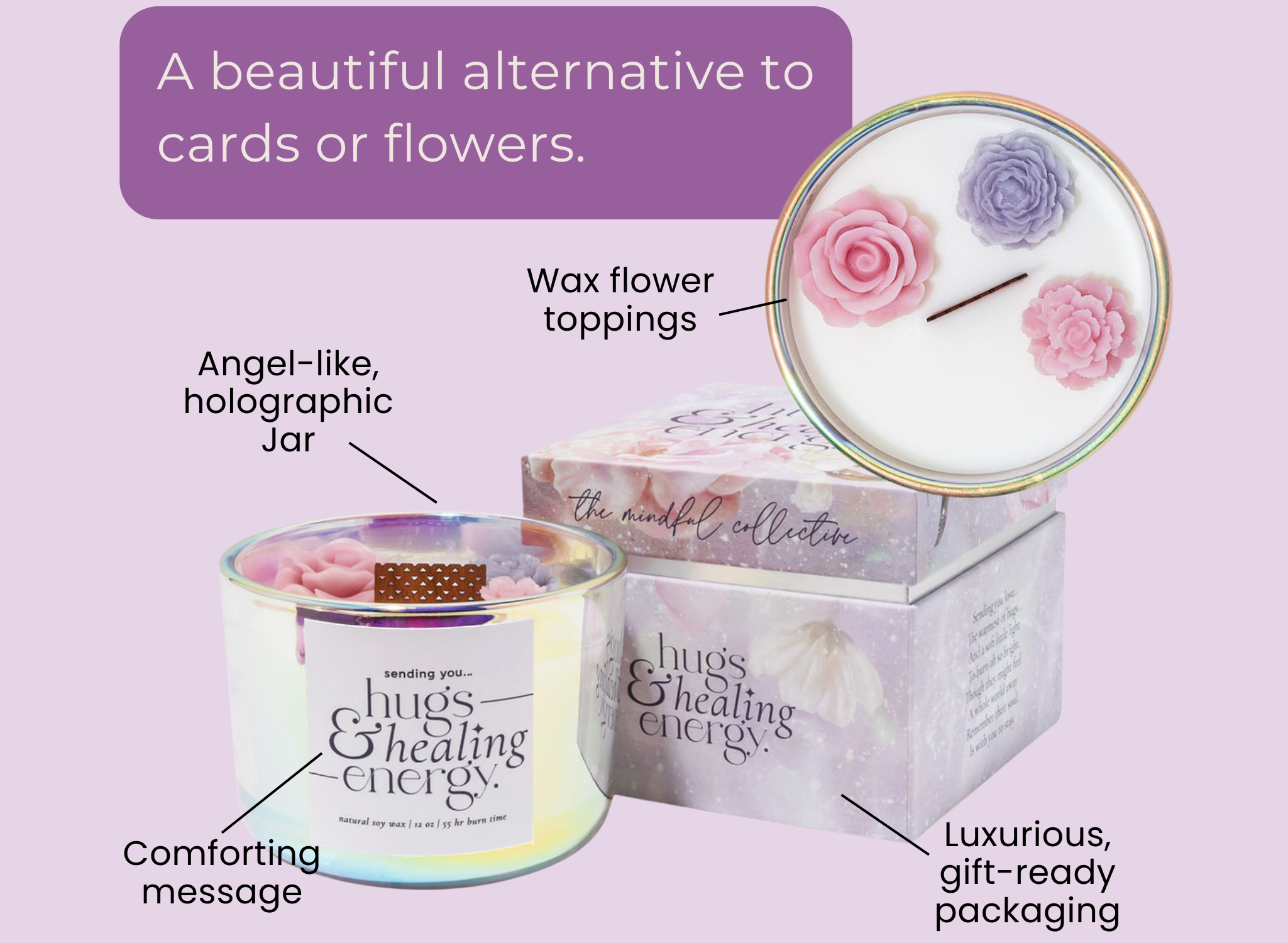 Learn how to use crystals in your spiritual practice
Description
Shipping & returns
Our products
This crystals and healing stones kit was designed to teach you just that!
Our Beginner's Crystal Set, paired with 15 meditation cards AND 15 audio meditations. To help you receive the full benefit of each crystal, each audio meditation has been paired with supporting crystals.
Learn how to use each crystal in this kit with our Crystals e-Guide, included via QR code inside. 
What's Inside Your Beginner's Crystal Kit:
15 Meditation Cards

1x tumbled Agate

1x tumbled Sodalite

1x tumbled 

Rhodonite

1x tumbled 

Snowflake Obsidian

1x tumbled 

Amazonite

1x tumbled 

Yellow Jade
Keepsake Box
Add To Cart: Free shipping for USA orders above $50 USD. Otherwise, $5 flat rate USA shipping.
Buy With Prime: Amazon Prime Members can select "Buy With Prime" for free 2-day shipping with Prime.
Each of our products is conceptualized and designed in-house by Aidan & Alexandra. When needed, we hire local small businesses across all aspects of design - graphics, photography, website. We source all products & crystals from top suppliers across the world. Our crystals are hand selected and ethically sourced from Madagascar, Caribbean, Mexico, China, and Brazil.
BENEFITS
HARNESS THE ANCIENT WISDOM OF REAL CRYSTALS AND HEALING STONES
It is thought that crystals hold their own vibrational frequency. By using our crystals in your spiritual practice or placing them throughout your home, you can match your own vibration to that of the crystals and cultivate peace, success, or wealth in your life.
EVERYTHING YOU NEED FOR YOUR SPIRITUAL PRACTICE IN ONE KIT
Designed to support every aspect of your practice from start to finish, we've thought of everything your practice needs in our 17-Piece Crystal kit. Set the tone with the candle and cleanse your space with California White Sage. Choose the crystals that will best support you. Emerge from meditation and offload your thoughts into our soft, vegan leather journal
THE PERFECT GIFT FOR SPIRITUAL SEEKERS
Looking for a meaningful gift with depth and soul? This beautiful Healing Crystal Set makes a thoughtful gift for beginner spirit junkies or highly awakened souls who desire to elevate their spiritual practices.
EXPERIENCE OUR LOVE AND LIGHT GUARANTEE
Thank you for trusting The Mindful Collective in your spiritual journey. Experience greater peace, light, and love after 30 days of consistent practice, or your money back.
WHEN TO USE
IN YOUR SPIRITUAL PRACTICE
Our crystals are perfect to use alongside modalities like Chakra balancing, Reiki, Journaling, Meditation, Breathwork, Yoga, or Intention Setting. And yes, luxurious baths can be spiritual too! ;)
THROUGHOUT YOUR HOME
Whether it's on a display shelf, coffee table, entryway, bedside table, in your bathroom or in a designated sacred space... Your crystals can be placed in the spaces of your home where you know they'll lift the vibration & spark joy.
CIRCLES & CEREMONIES
Crystals can be incredibly supportive to use during gatherings such as women's circles, full moon ceremonies, or group meditation. Use them to attune, cleanse, or set the mood & energy of the group.
HOW TO USE
DOWNLOAD OUR FREE E-GUIDES
Did you know we've created free e-guides to help you understand what each crystal can be used for + when to use it? Head to our Blogs page to download them today.
CLEANSE
Cleansing your crystals or space doesn't have to be complicated. Some may prefer to light sage, gently waving it around your space or crystals until the energy feels reset. Others may prefer to cleanse with the cycles of the moon. For more detailed practices around cleansing your crystals, head to our Blog article, "The 101 of Cleansing Crystals".
THE PERFECT HOME DECOR PIECE
Place your crystals throughout your home -- on a display shelf, coffee table, centerpiece, bedside table, or in a sacred space-- to help you stay relaxed, grounded & connected.
Chakra Healing
Balance, refine, and feel connected to your energy within.
Feminine Embodiment
Weave the very essence of the highest version of you into the everyday routine of today.
Personal Growth
We are dynamic beings - who are are now is not always who we'll want to be tomorrow!
Thoughtful, curated luxury...
Impeccable quality.
Each crystal in your kit is hand selected from only the finests grade, authentic & premium  quality crystals on the market.
Set the perfect mood...
Designed with your practice in mind.
The experience of how your spiritual practice feels is our top priority when we create our crystal kits. Expect each element in these kits to support a different facet of your practice... whether that's mood lighting, energy cleansing, journaling, or affirmation reminders.
This section doesn't currently include any content. Add content to this section using the sidebar.