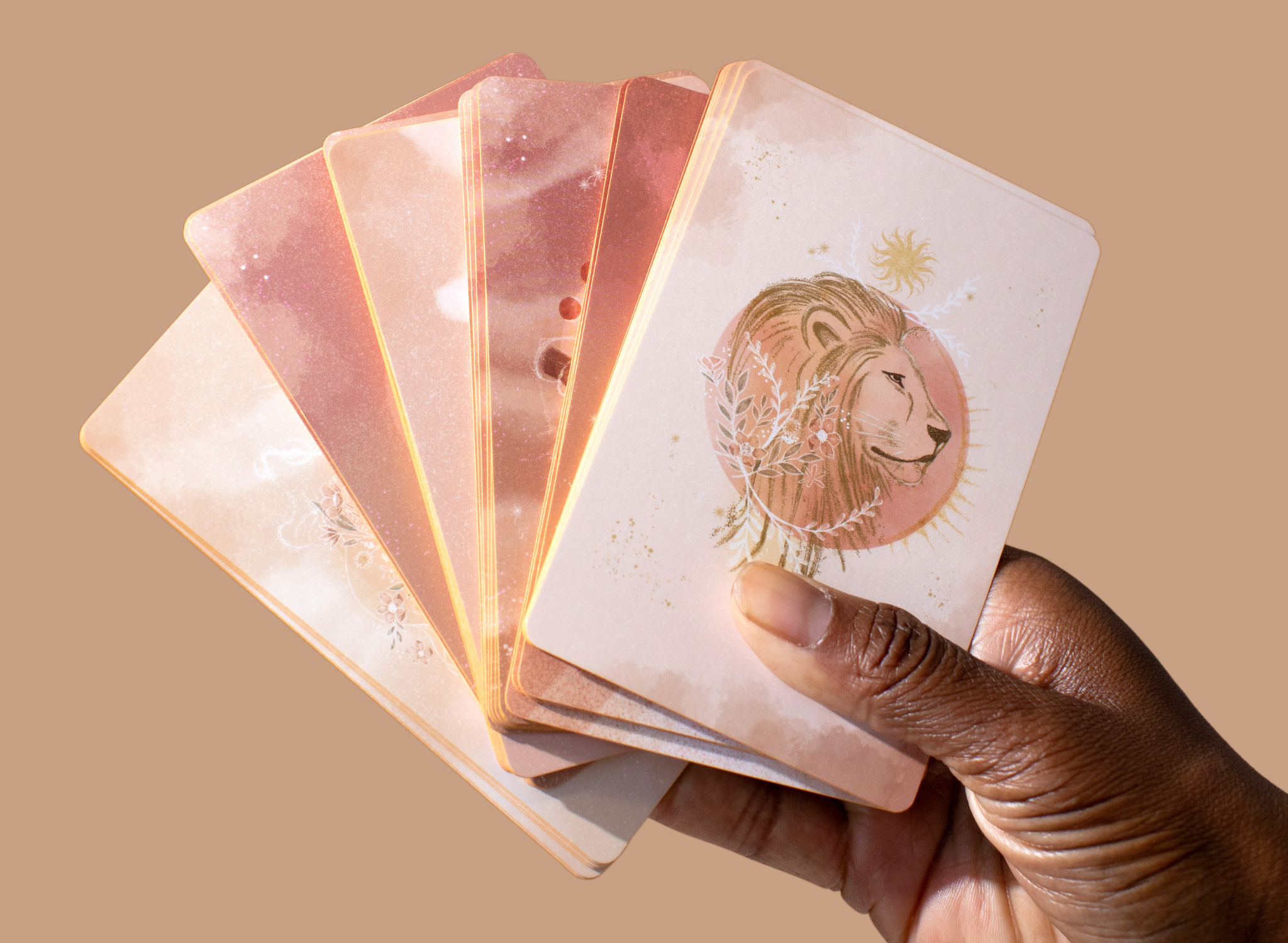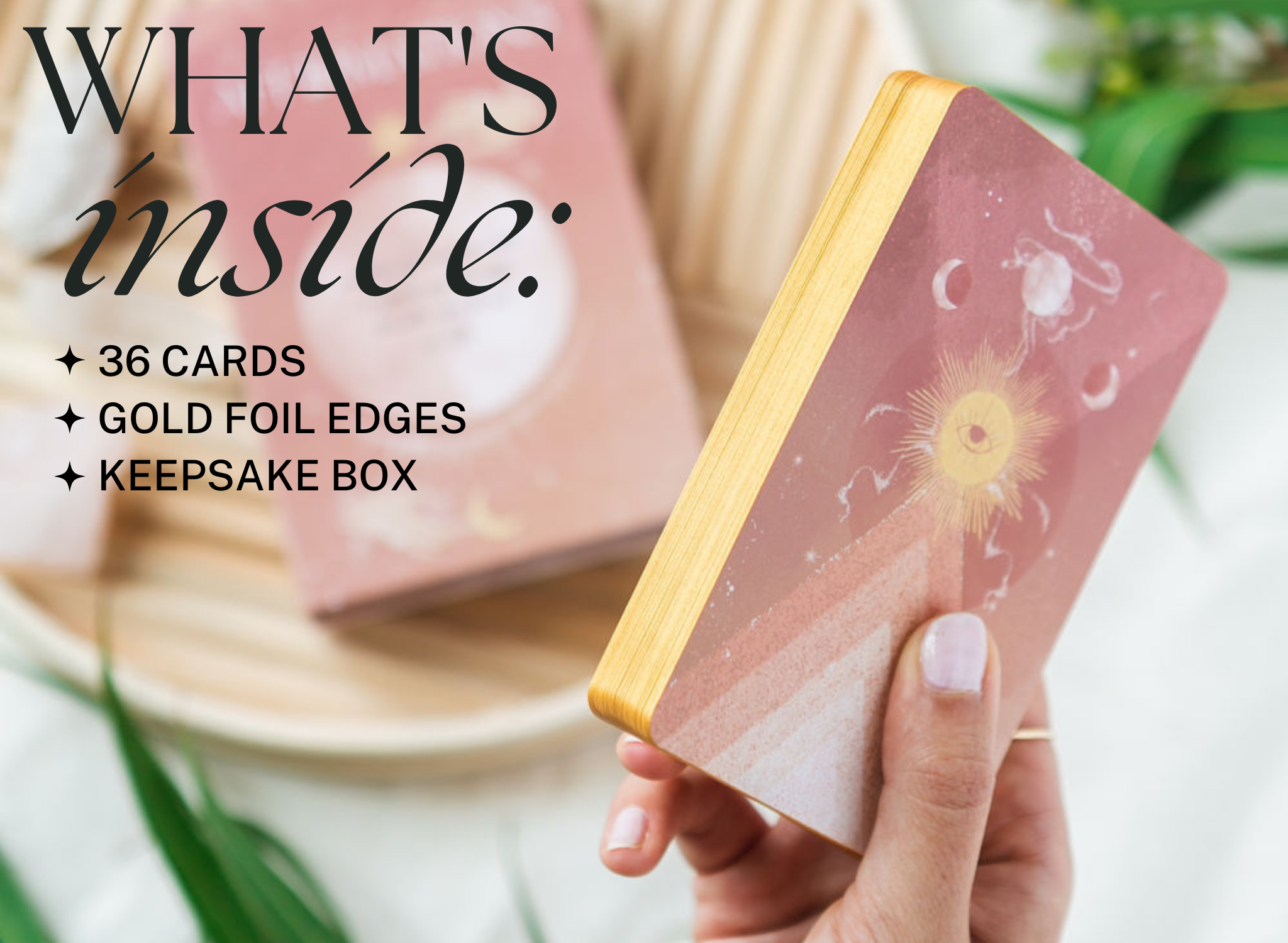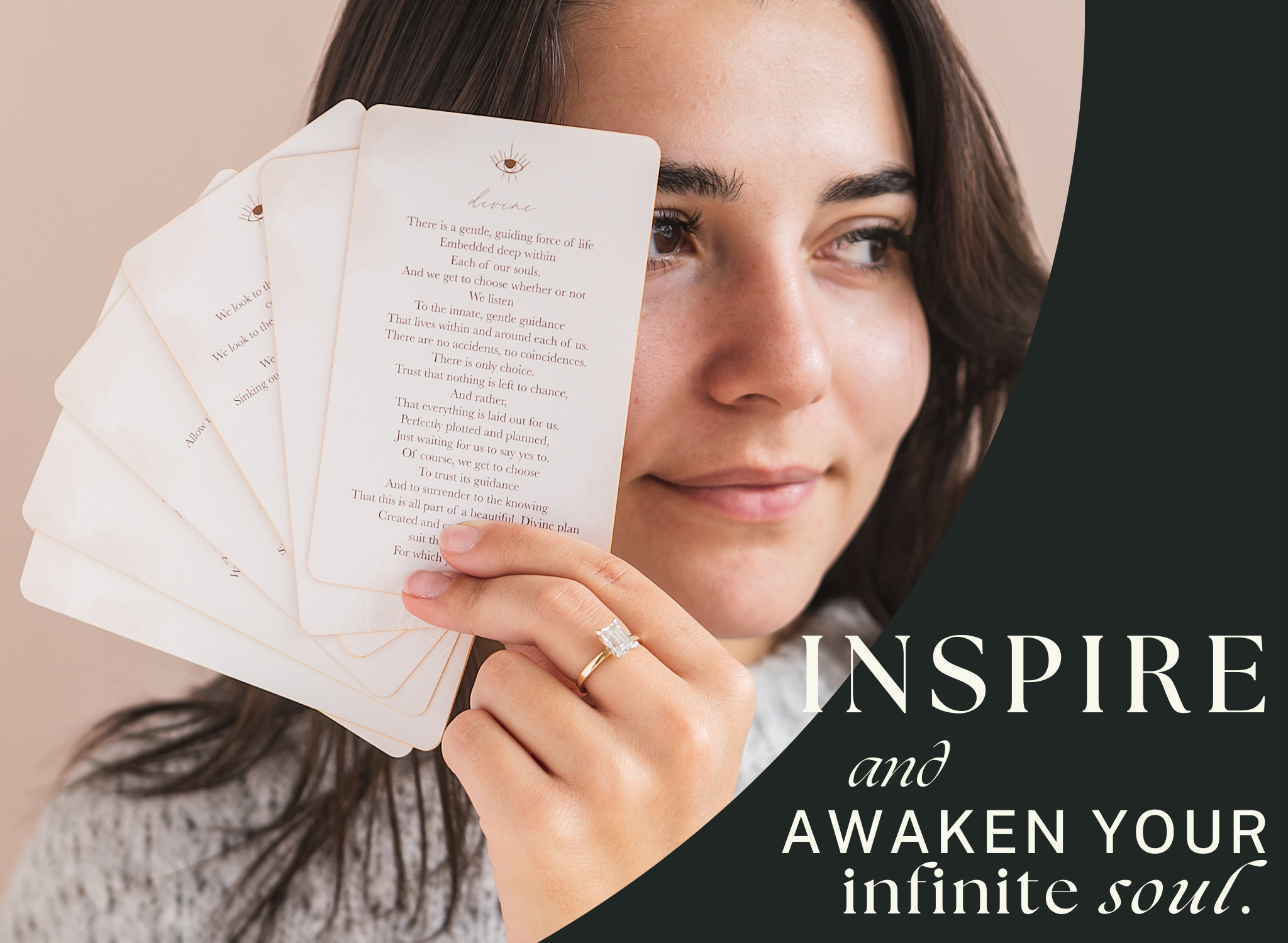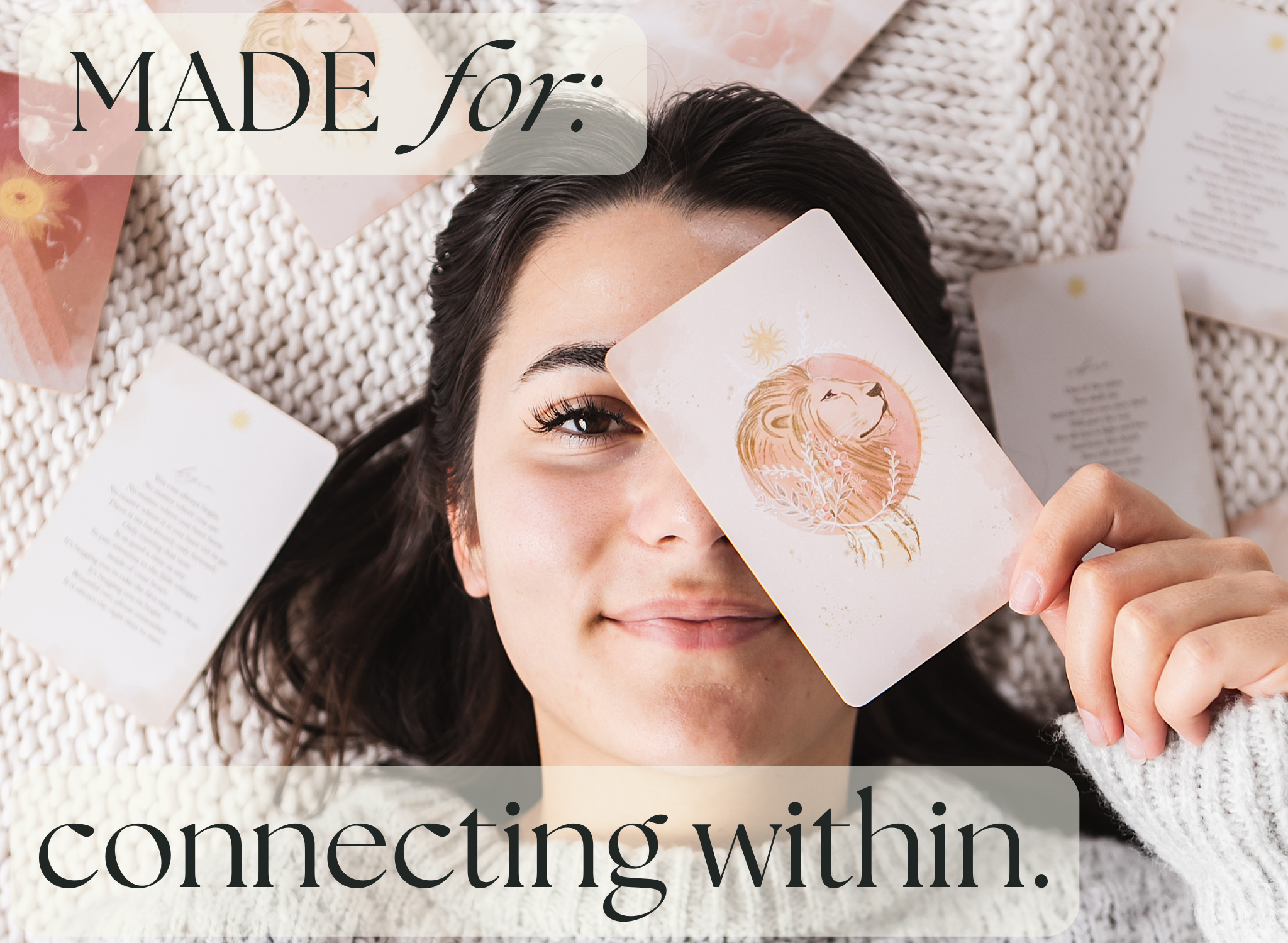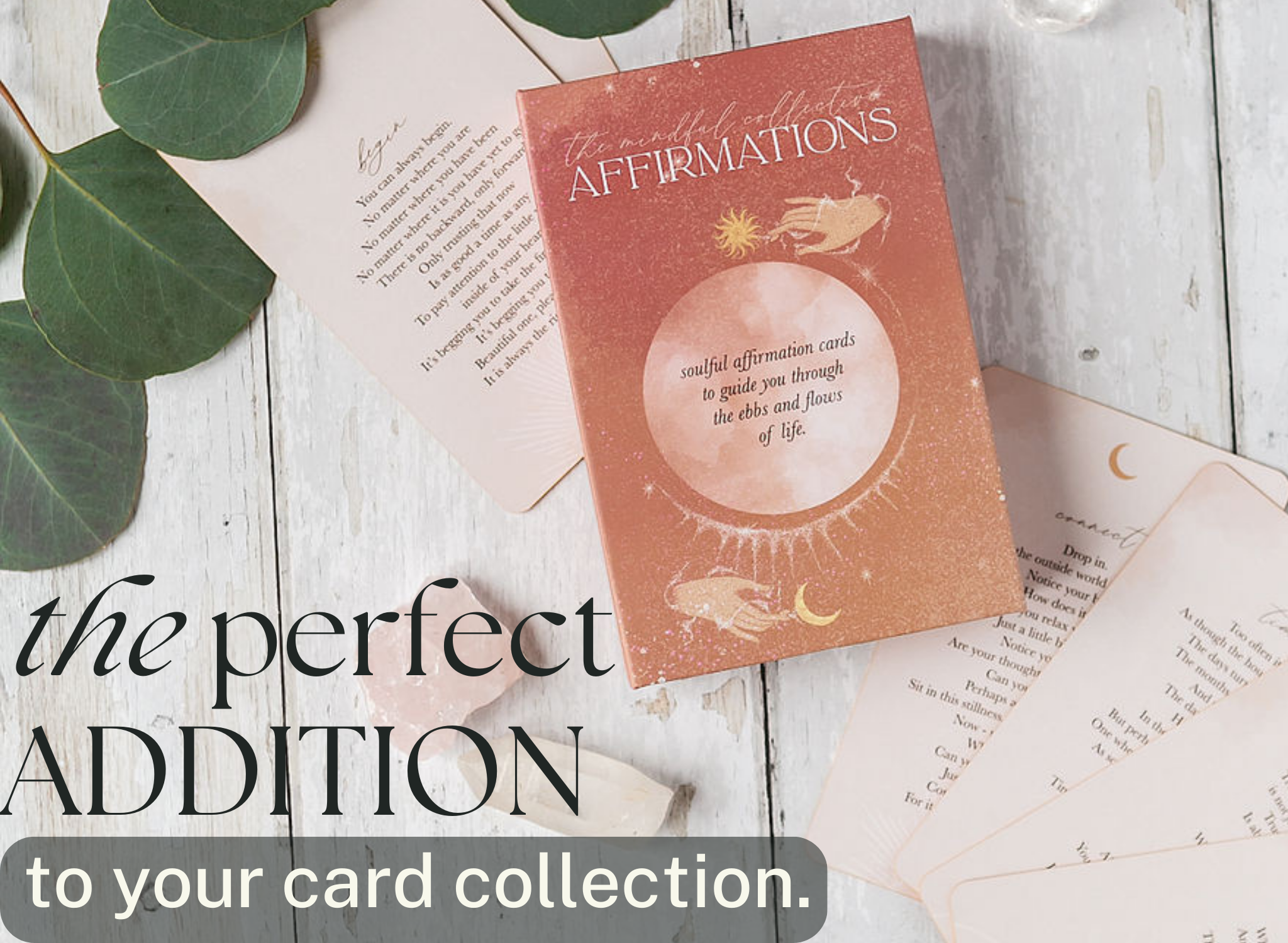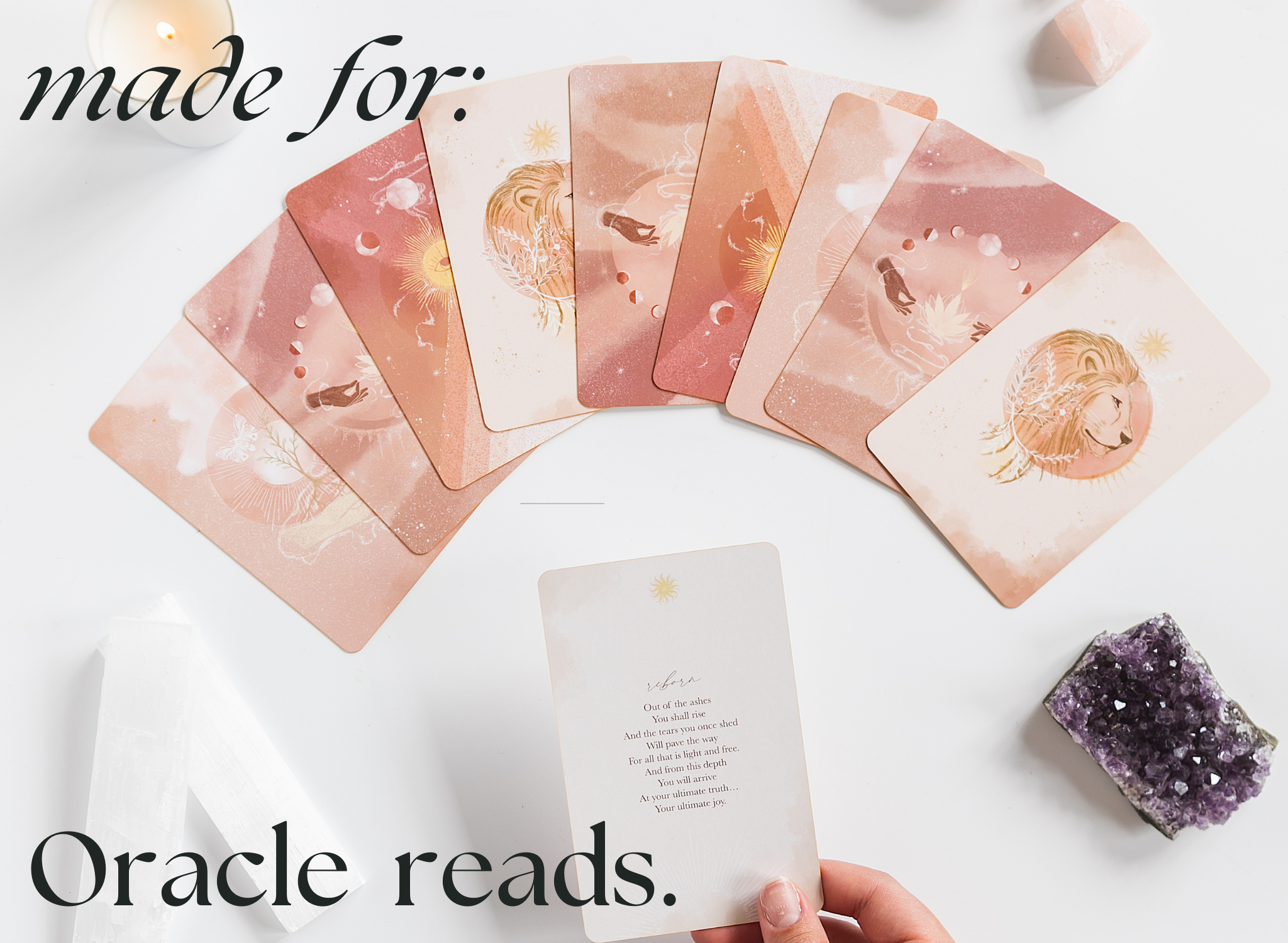 Soulful Affirmation Oracle - 36 Card Deck
Inspiring affirmations to guide you through the ebbs & flows of life
Description
Shipping & returns
Our products
Feel radiant, alive, and beautiful inside & out.
Our Soulful Affirmations were written to support you through life's highs and lows. Deeper than your typical oracle cards, these affirmations were created to help you...
Connect to your spirit

Get creative + inspired


Tap into your feminine energy

Align your thoughts to your higher purpose
Add To Cart: Free shipping for USA orders above $50 USD. Otherwise, $5 flat rate USA shipping.
Buy With Prime: Amazon Prime Members can select "Buy With Prime" for free 2-day shipping with Prime.
Each of our products is conceptualized and designed in-house by Aidan & Alexandra. When needed, we hire local small businesses across all aspects of design - graphics, photography, website. We source all products & crystals from top suppliers across the world. Our crystals are hand selected and ethically sourced from Madagascar, Caribbean, Mexico, China, and Brazil.
Soulful Affirmation Oracle - 36 Card Deck
BENEFITS
FEEL INSPIRED, CENTERED & UPLIFTED
This isn't your typical affirmation deck; these cards were written & designed to take you on a transformative journey within. You'll find you won't need a guidebook with the deep, soulful content on each card.
UPGRADE YOUR THOUGHTS & EMPOWER YOUR SPIRIT
Explore new depths of your spirituality and live your days to their fullest potential. Each card contains inspirational downloads channeled into poetry to describe the energy, intention & feeling for each card.
THE PERFECT GIFT FOR SPIRITUAL SEEKERS
Looking for a meaningful gift with depth and soul? Our Affirmation Oracle makes a thoughtful gift for beginner spirit junkies or highly awakened souls who desire to elevate their spiritual practices.
EXPERIENCE OUR LOVE AND LIGHT GUARANTEE
Thank you for trusting The Mindful Collective in your spiritual journey. Experience greater peace, light, and love after 30 days of consistent practice, or your money back.
WHEN TO USE
MEDITATION & INTUITIVE CARD READINGS
Feeling like you need guidance? Pull a card from our deck in whatever way comes naturally to you. After you've read the card, slip into meditation and emerge feeling uplifted & revitalized.
JOURNAL PROMPTS
Looking to go that layer deeper in your journaling practice? We've got you covered! Simply draw a card from this deck and use it as a starting point. Allow your thoughts to flow from there.
GROUP THERAPY
These cards have been used by industry professionals across a variety of self & group therapy sessions. Use them inspire & evoke confidence for your clients or yourself.
HOW TO USE
SET THE TONE FOR YOUR DAY
Looking for inspiration or guidance when you wake up? Simply choose a card as part of your morning routine and watch how your day transforms.
ON YOUR VISION BOARD
These cards make the perfect addition to your vision board or in a place you'll see them daily (like your bathroom mirror!). Switch them out daily, weekly, quarterly... however often you feel is necessary to stay inspired & uplifted.
INTENTION IS EVERYTHING
Above all, the energy behind our intentions is most important in setting the stage for any ritual. Before incorporating affirmations into your practice, tune into how you want to feel. Connecting within can help the affirmations to feel supportive on a deeper level.
Thoughtful, curated luxury...
Unique, one-of-a-kind designs.
We've considered it all for you. Made of high quality cardstock with golden foil edges, your cards come packaged in a beautiful keepsake box with magnetic enclosure.
Set the perfect mood…
Impeccable luxury.
We believe aesthetic speaks to the soul. Each design within these cards has been carefully curated and considered with your practice in mind.
This deck is amazing. I'm a guy and use them almost daily on myself and friends. I didnt even know it was classified as women's deck until doing this review but yes there are some gender words, nothing too serious.

My connection is powerful with this deck. I've gotten the same card 3x in a row. The 1st time was actually for a close friend (who also does cards). Last 2 shuffles were for me. Same card all 3 times.

I've also bought a deck for another friend and she loves them. She has few oracle decks and does very well but I wanted her to have something she can use daily to connect more with her gifts.

For the price these cards are actually good quality. I highly recommend them.
So soulful and great quality!! The best I ever had. These card exceeded my expectations. They are thick, they have beautiful messages and images. It's evident they were created with so much love.
These affirmation cards are beautifully made and their messages are so meaningful! I purchased the pink ones and I just love them! The artwork is soft and muted, the messages so much more detailed than other card I have seen. They would make a wonderful gift for your closest friends.