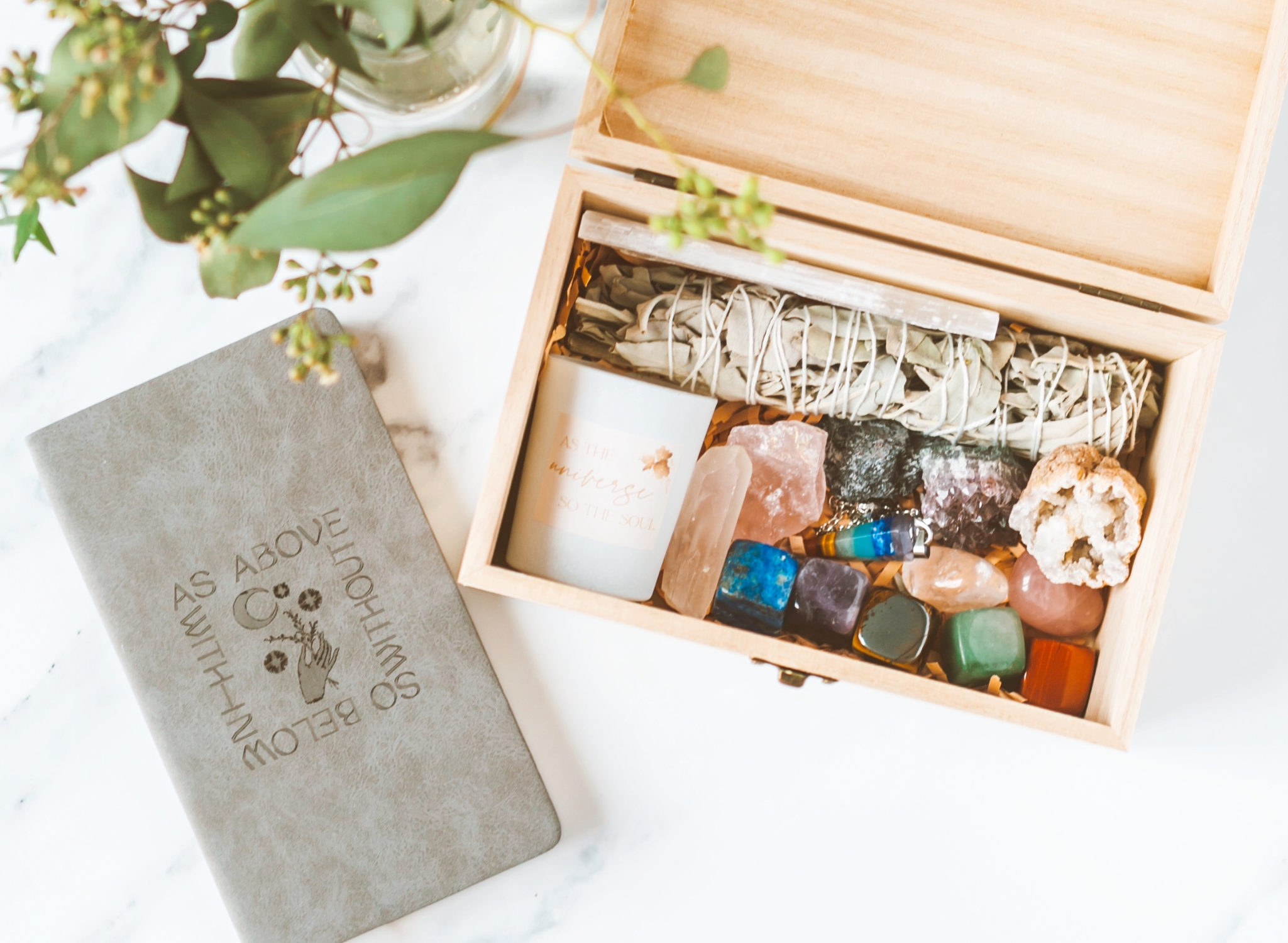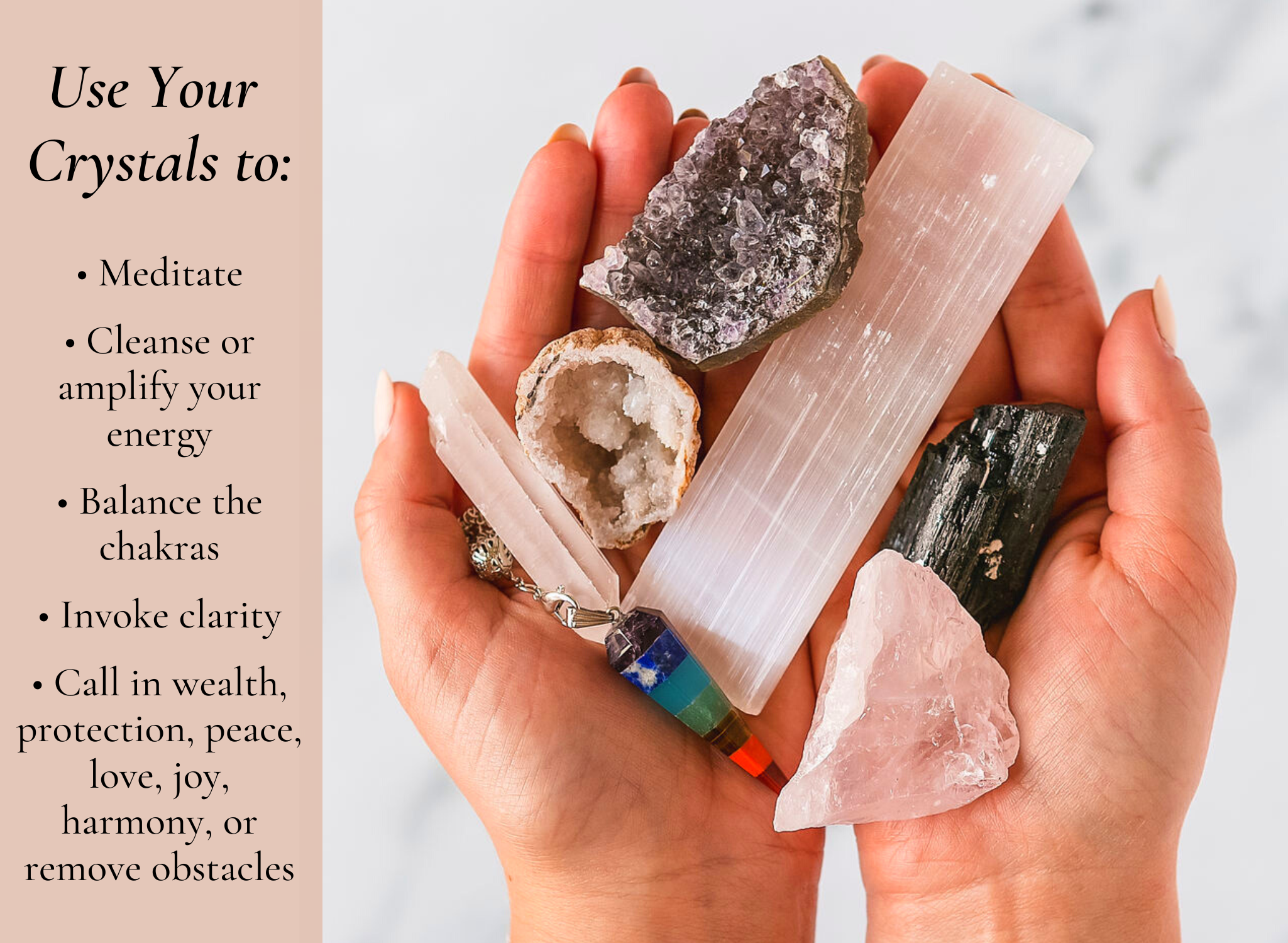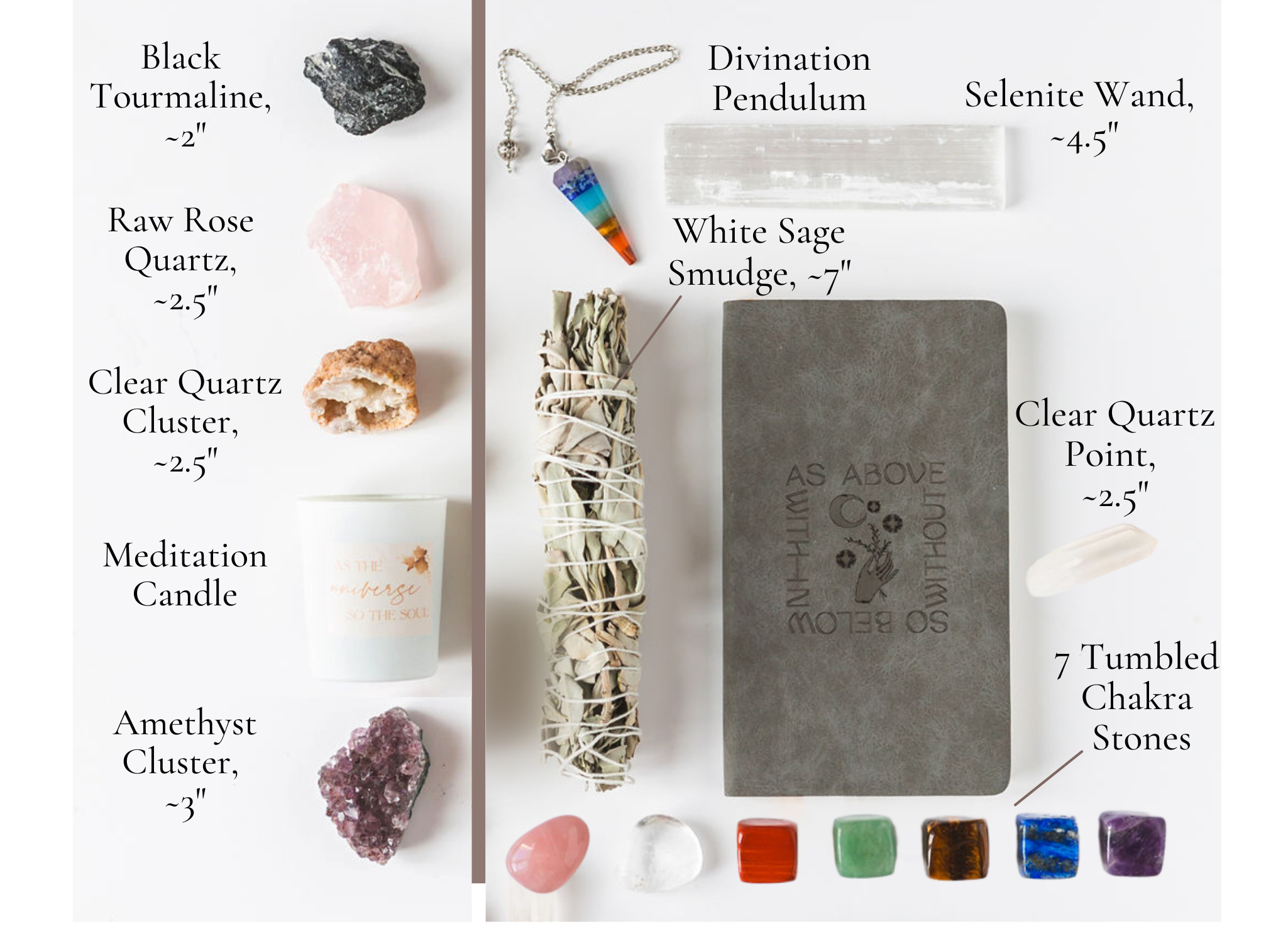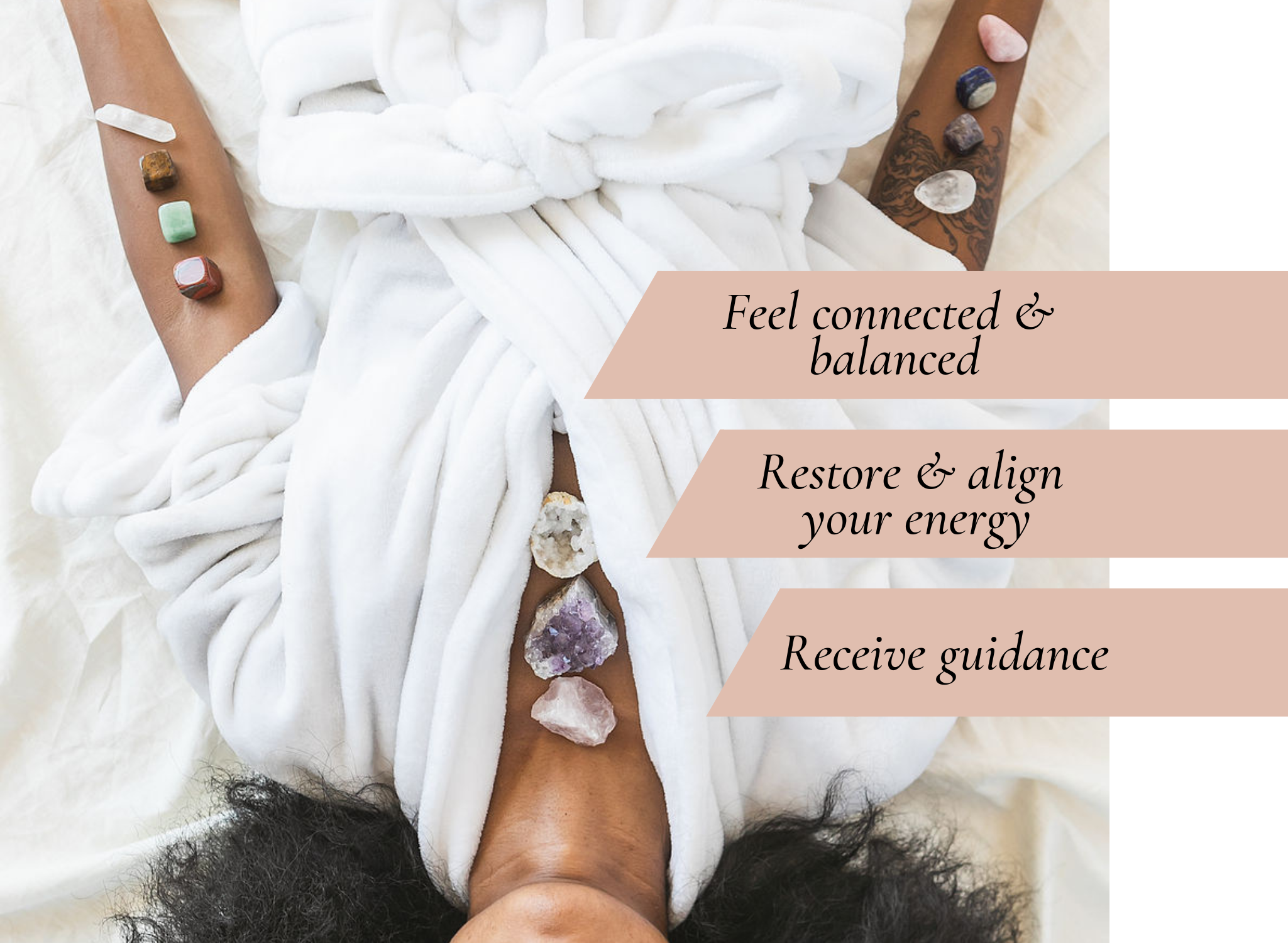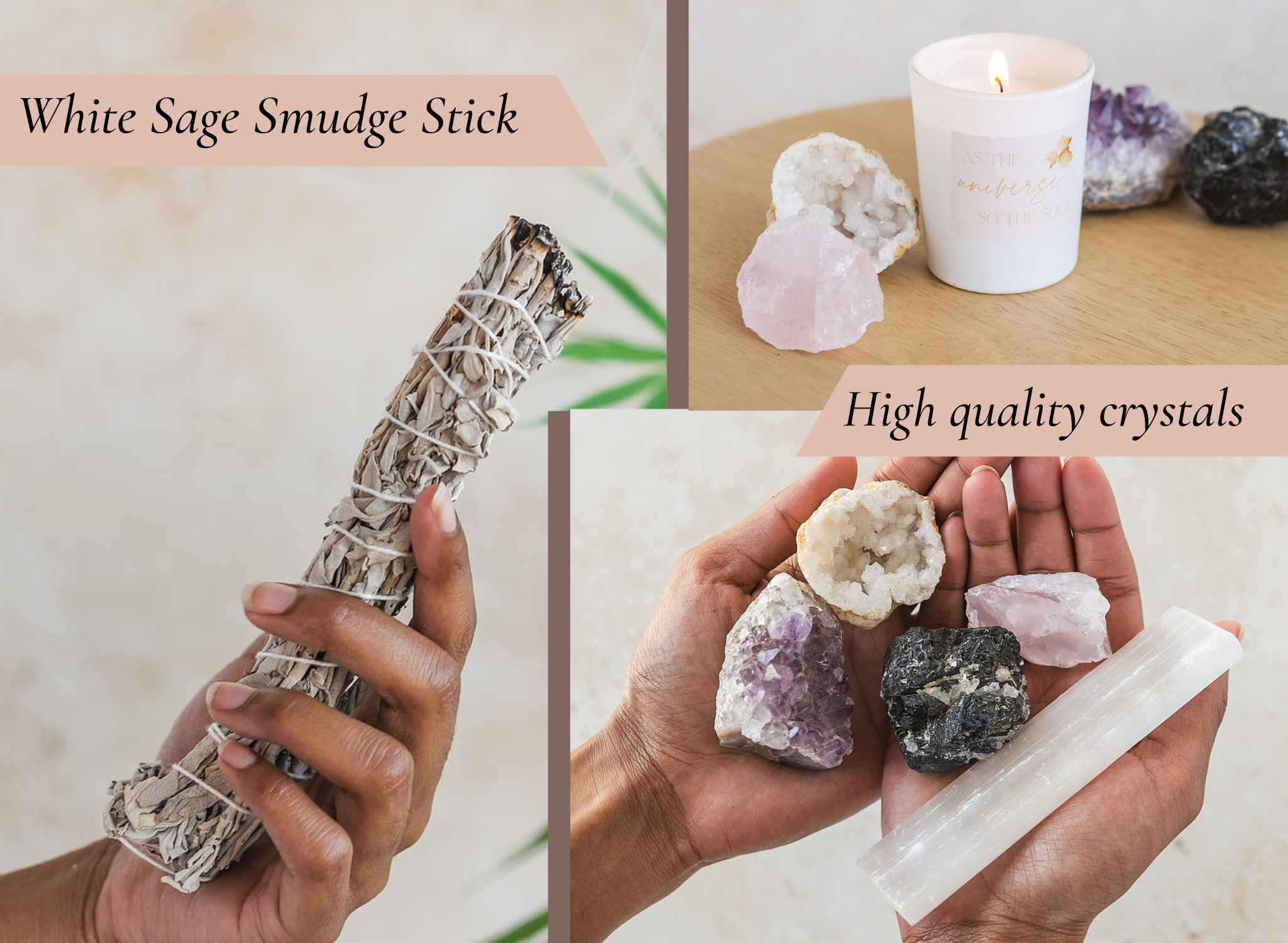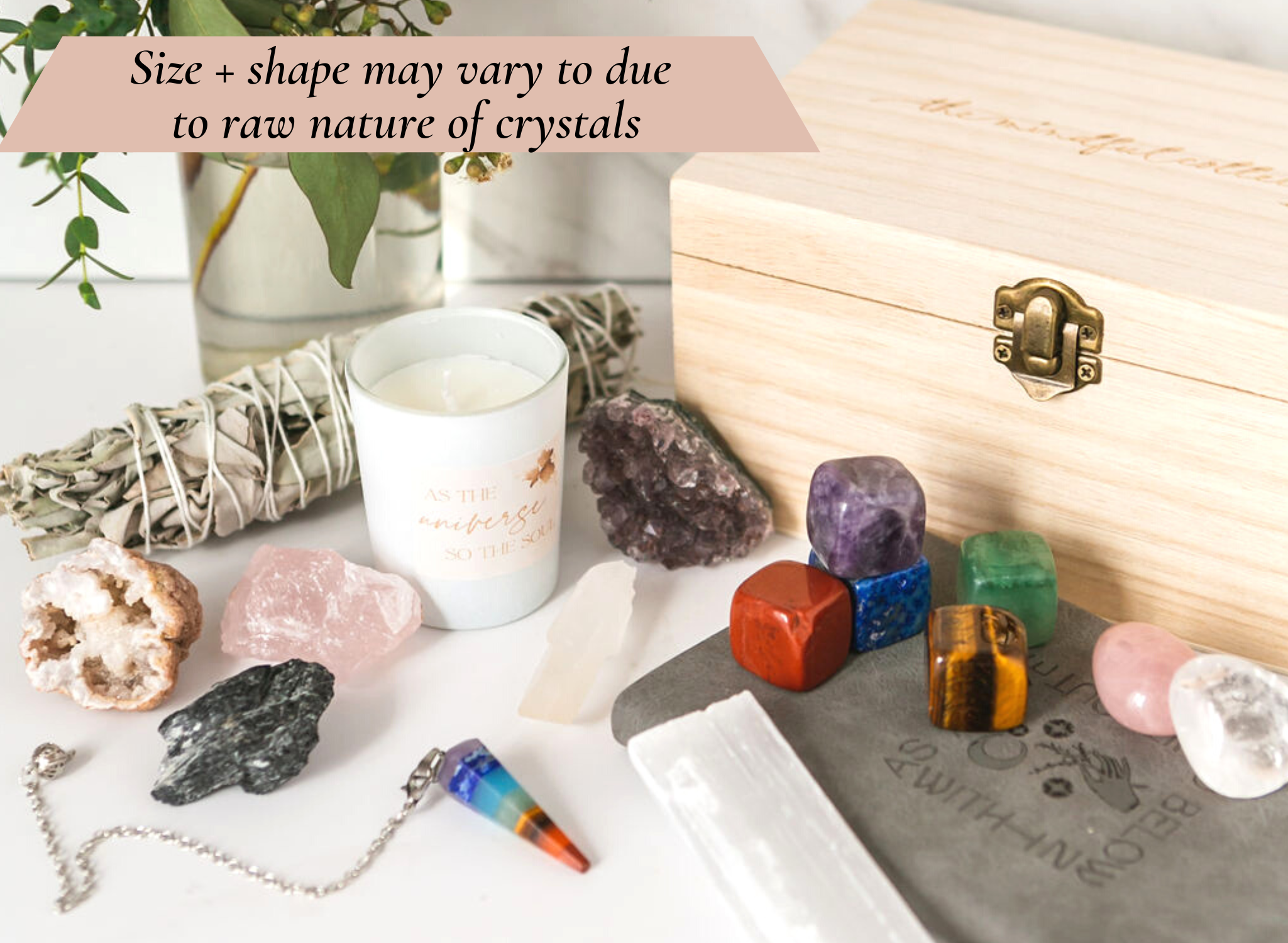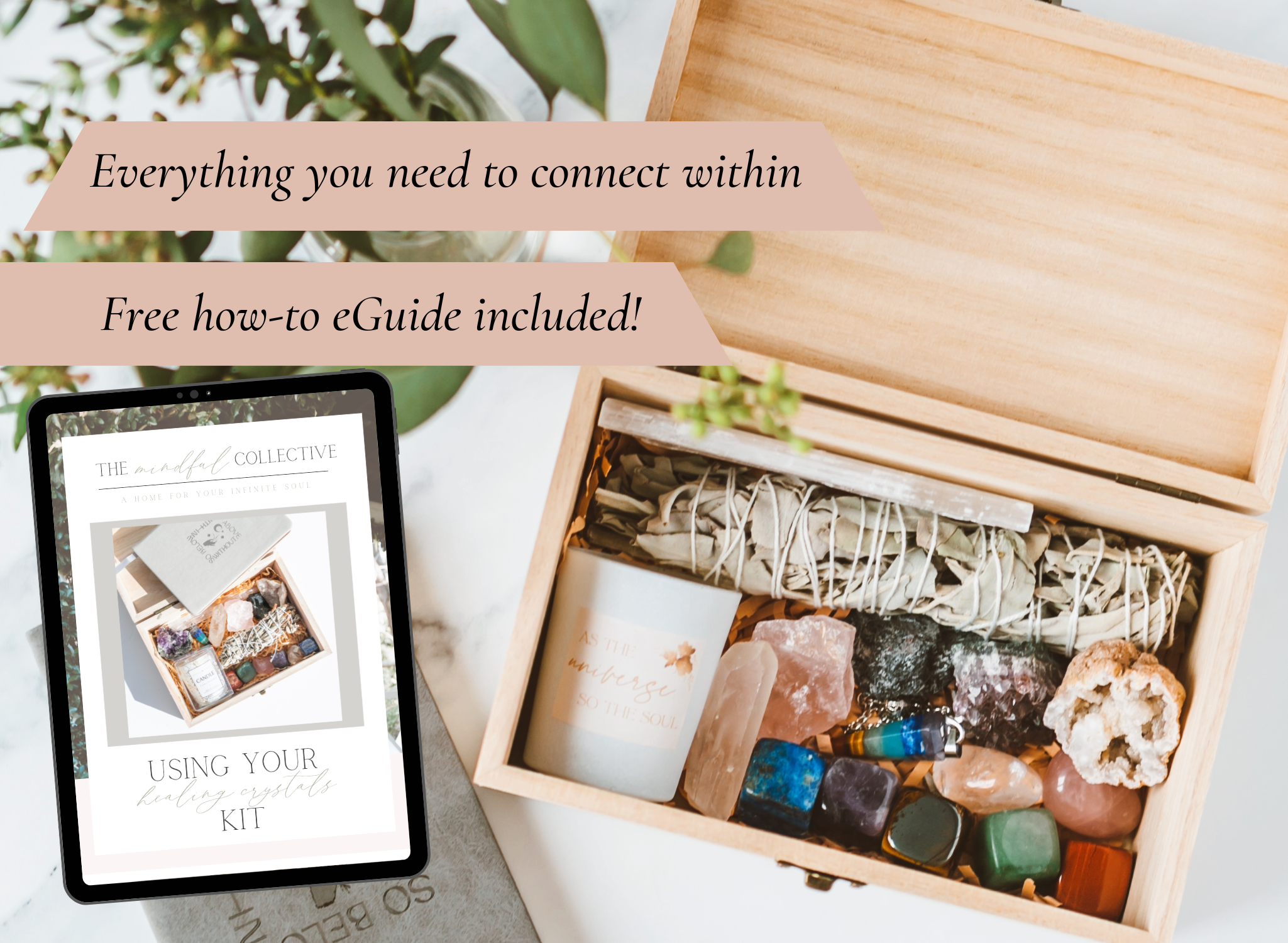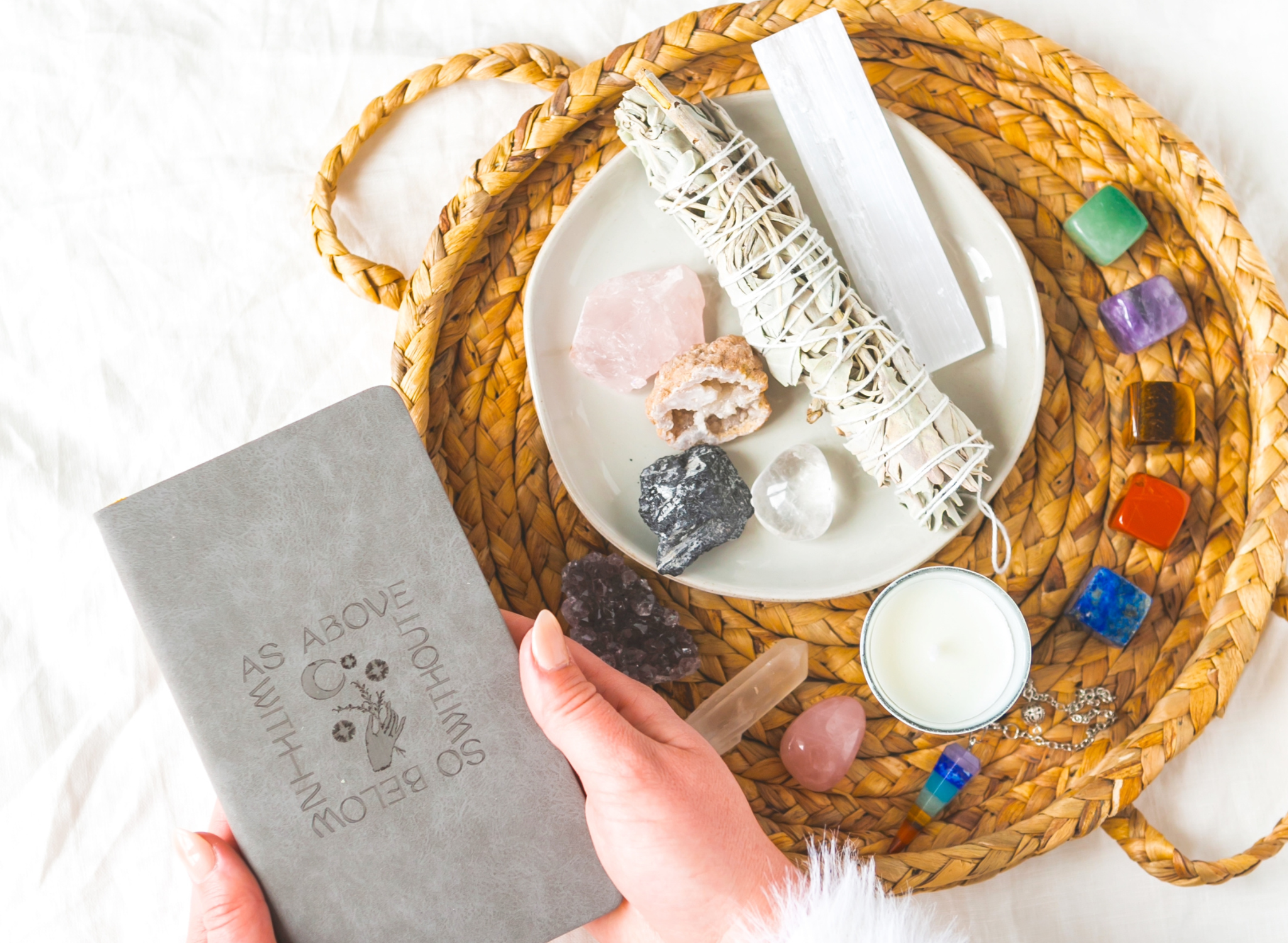 17 Piece Healing Crystal Starter Kit
Crystal kits designed to take your spiritual practice to the next level
Description
Shipping & returns
Our products
Balance the 7 chakras & align your energetic frequency to your deepest desires with our Healing Crystals Set.
What's in Your 17 Piece Healing Crystals Set:
7 Tumbled Chakra Stones

5 Raw Crystal Clusters And Stones

Chakra Divination Pendulum

Sage Smudge Stick, ~7"

Selenite Wand

Manifesting Journal (Unlined)

Meditation Candle

Keepsake Wooden Box
Use crystals for your meditation, Reiki, journaling, manifestation, aura cleansing & so much more. Keep crystals around your home for a purifying and uplifting ambiance.
 **New to using healing crystals, or looking for a refresher in how crystals can help amplify & cleanse your energy? Receive a free downloadable e-guide with your purchase.
Add To Cart: Free shipping for USA orders above $50 USD. Otherwise, $5 flat rate USA shipping.
Buy With Prime: Amazon Prime Members can select "Buy With Prime" for free 2-day shipping with Prime.
Each of our products is conceptualized and designed in-house by Aidan & Alexandra. When needed, we hire local small businesses across all aspects of design - graphics, photography, website. We source all products & crystals from top suppliers across the world. Our crystals are hand selected and ethically sourced from Madagascar, Caribbean, Mexico, China, and Brazil.
17 Piece Healing Crystal Starter Kit
BENEFITS
HARNESS THE ANCIENT WISDOM OF REAL CRYSTALS AND HEALING STONES
It is thought that crystals hold their own vibrational frequency. By using our crystals in your spiritual practice or placing them throughout your home, you can match your own vibration to that of the crystals and cultivate peace, success, or wealth in your life.
EVERYTHING YOU NEED FOR YOUR SPIRITUAL PRACTICE IN ONE KIT
Designed to support every aspect of your practice from start to finish, we've thought of everything your practice needs in our 17-Piece Crystal kit. Set the tone with the candle and cleanse your space with California White Sage. Choose the crystals that will best support you. Emerge from meditation and offload your thoughts into our soft, vegan leather journal.
THE PERFECT GIFT FOR SPIRITUAL SEEKERS
Looking for a meaningful gift with depth and soul? This beautiful Healing Crystal Set makes a thoughtful gift for beginner spirit junkies or highly awakened souls who desire to elevate their spiritual practices.
EXPERIENCE OUR LOVE AND LIGHT GUARANTEE
Thank you for trusting The Mindful Collective in your spiritual journey. Experience greater peace, light, and love after 30 days of consistent practice, or your money back.
WHEN TO USE
IN YOUR SPIRITUAL PRACTICE
Our crystals are perfect to use alongside modalities like Chakra balancing, Reiki, Journaling, Meditation, Breathwork, Yoga, or Intention Setting. And yes, luxurious baths can be spiritual too! ;)
THROUGHOUT YOUR HOME
Whether it's on a display shelf, coffee table, entryway, bedside table, in your bathroom or in a designated sacred space... Your crystals can be placed in the spaces of your home where you know they'll lift the vibration & spark joy.
CIRCLES & CEREMONIES
Crystals can be incredibly supportive to use during gatherings such as women's circles, full moon ceremonies, or group meditation. Use them to attune, cleanse, or set the mood & energy of the group.
HOW TO USE
DOWNLOAD OUR FREE E-GUIDES
Did you know we've created free e-guides to help you understand what each crystal can be used for + when to use it? Head to our instagram @themindfulxcollective bio to download them today.
CLEANSE
Cleansing your crystals or space doesn't have to be complicated. Some may prefer to light sage, gently waving it around your space or crystals until the energy feels reset. Others may perfer to cleanse with the cycles of the moon. For more detailed practices around cleansing your crystals, head to our Blog article, "The 101 of Cleansing Crystals".
INTENTION IS EVERYTHING
Above all, the energy behind our intentions is most important in setting the stage for any ritual. Before incorporating crystals into your practice, tune into how you want to feel. Often, your intuition will guide you to choose crystals to support you based on this.
Chakra Healing
Balance, refine, and feel connected to your energy within.
Soul Connection
Connect to who you came here to be.
Real Healing Crystals
Hand picked, always top quality, & certified for authenticity just for you.
Thoughtful, curated luxury...
Impeccable quality.
Each crystal in your kit is hand selected from only the finest grade, authentic & premium quality crystals on the market.
Set the perfect mood...
Designed with your practice in mind.
The experience of how your spiritual practice feels is our top priority when we create our crystal kits. Expect each element in these kits to support a different facet of your pratice... whether that's mood lighting, energy cleansing, journaling, or affirmation reminders.
This was such a great little beginner box to get my self for really trying to focus on my energy and spiritual self. I would highly recommend this to any one looking for a starter to feel more in tune with yourself.
I really love this set! The company seems extremely kind and thoughtful as well as I received a follow up email from them with PDF guides on how to use everything in the pack. The packaging is beautiful and the box is just very visually appealing. The candle smells amazing and I plan to order the full size candle from them next. Definitely recommend for anyone looking to find some peace and healing along this journey!
Better than I anticipated. The packaging around each crystal in the wooden box was perfect to make sure that there was no damages that could occur. The crystals are real crystals they are not made of glass which was my biggest fear so I'm so happy about that. Each crystal is unique and a really great size they're not super small they're actually pretty large and they were packaged with care. Love my set