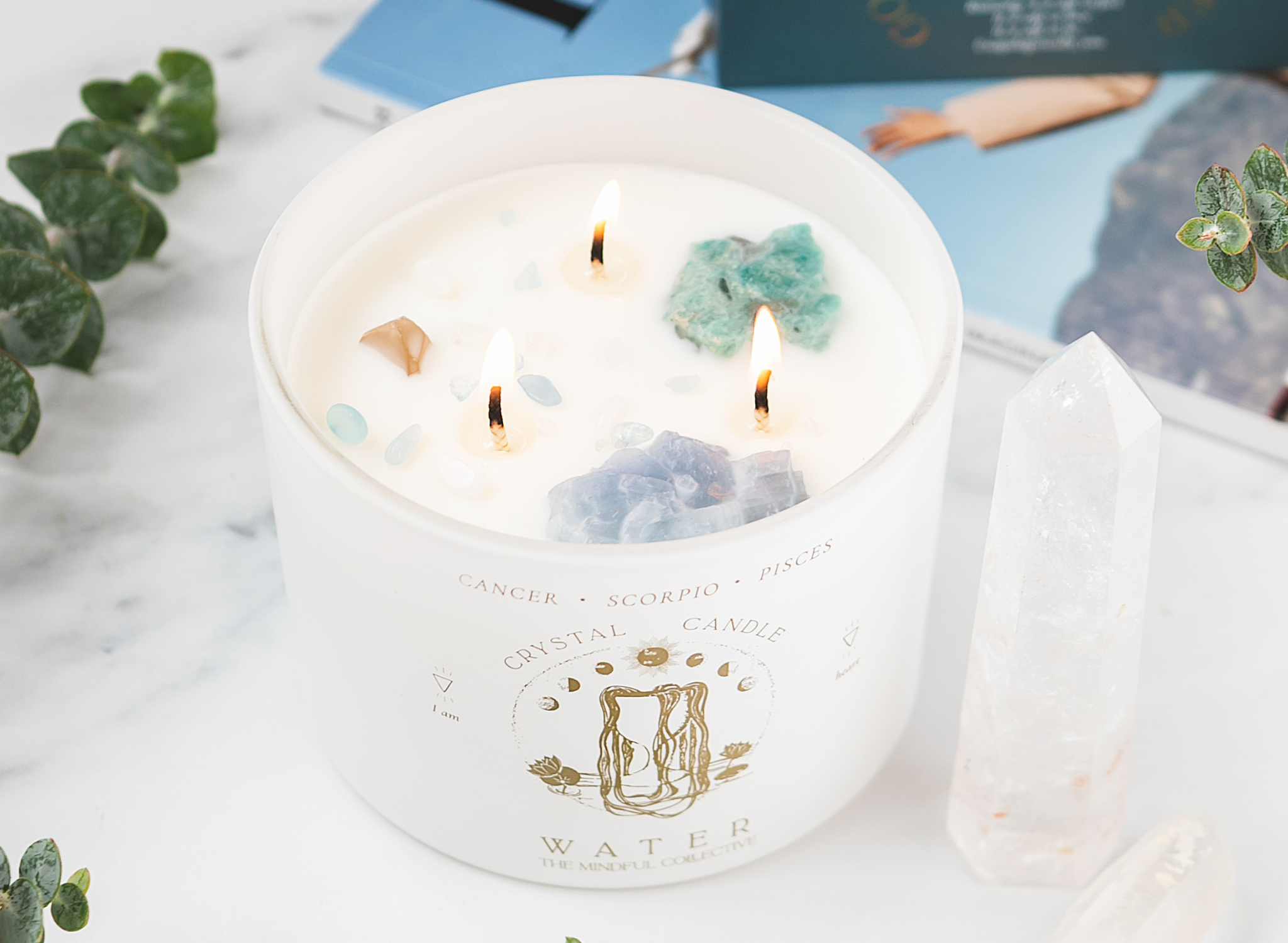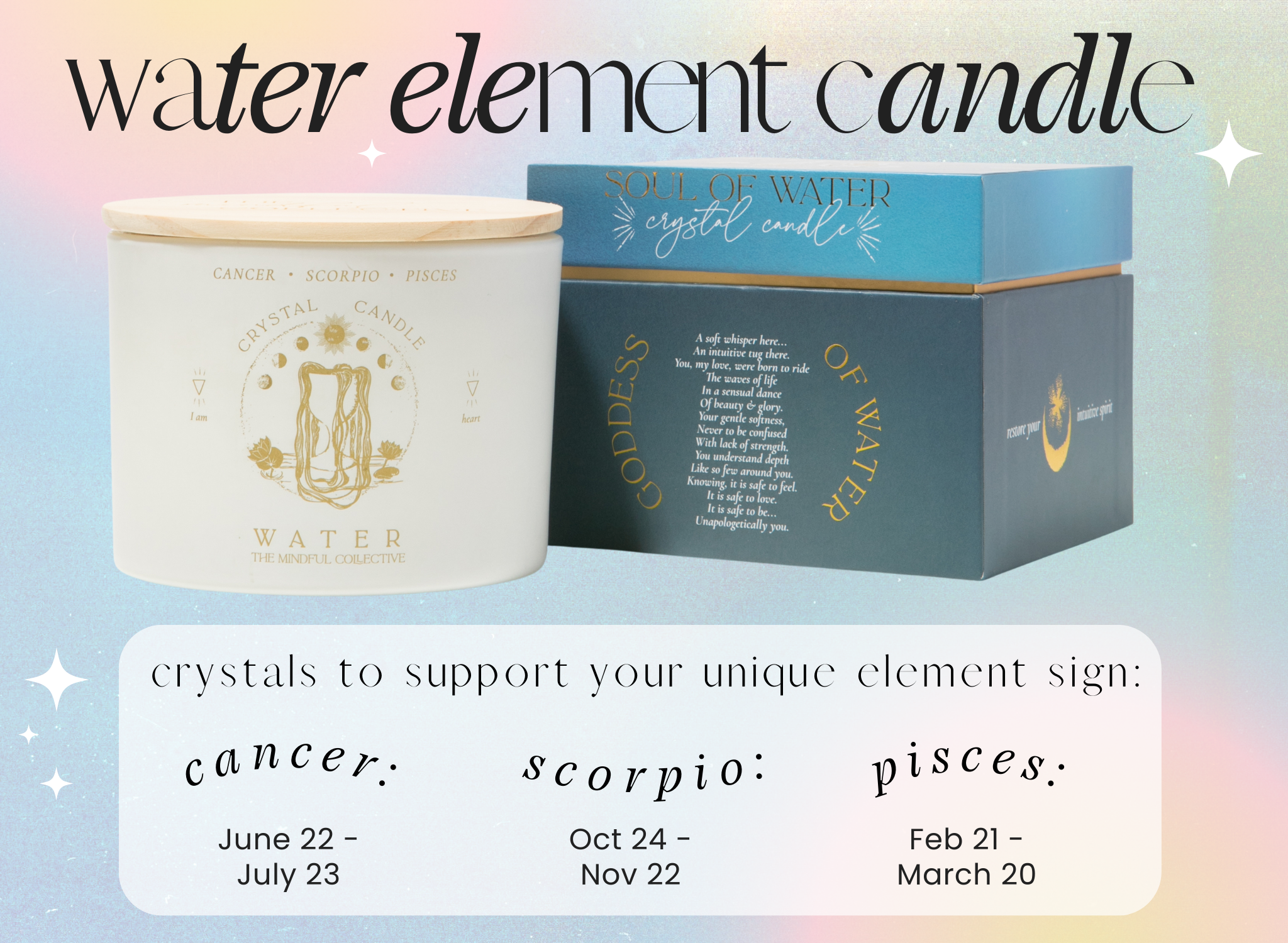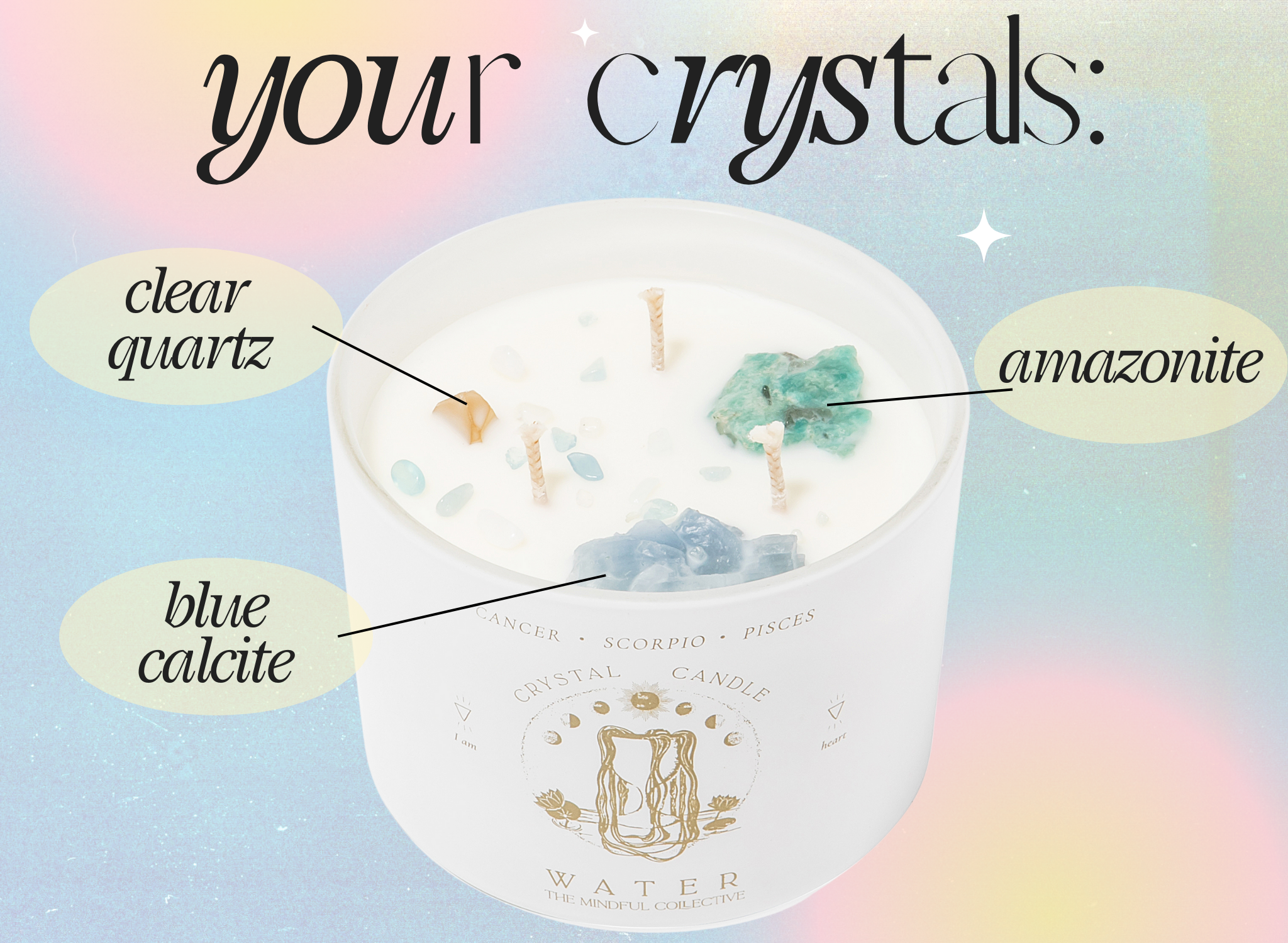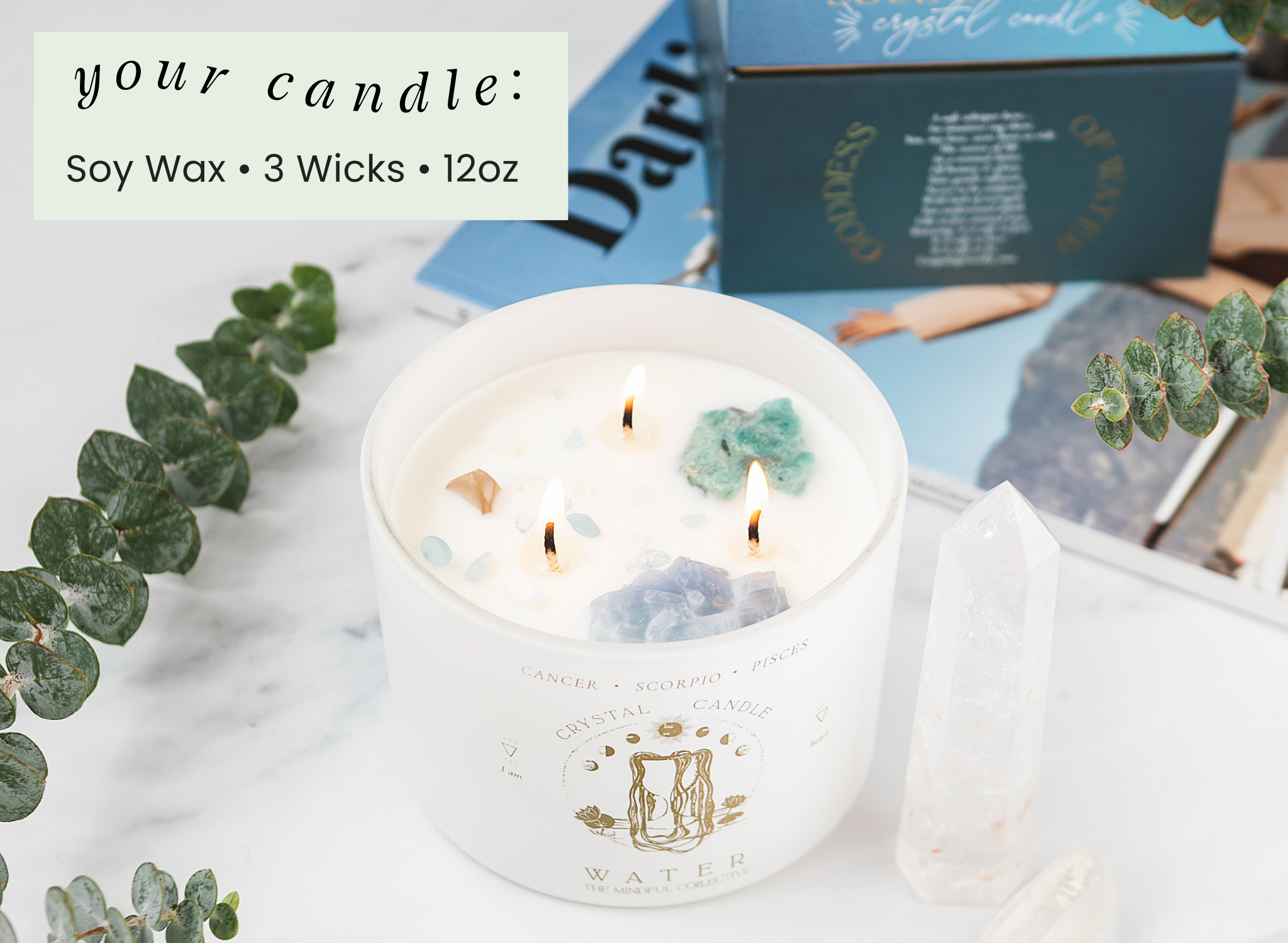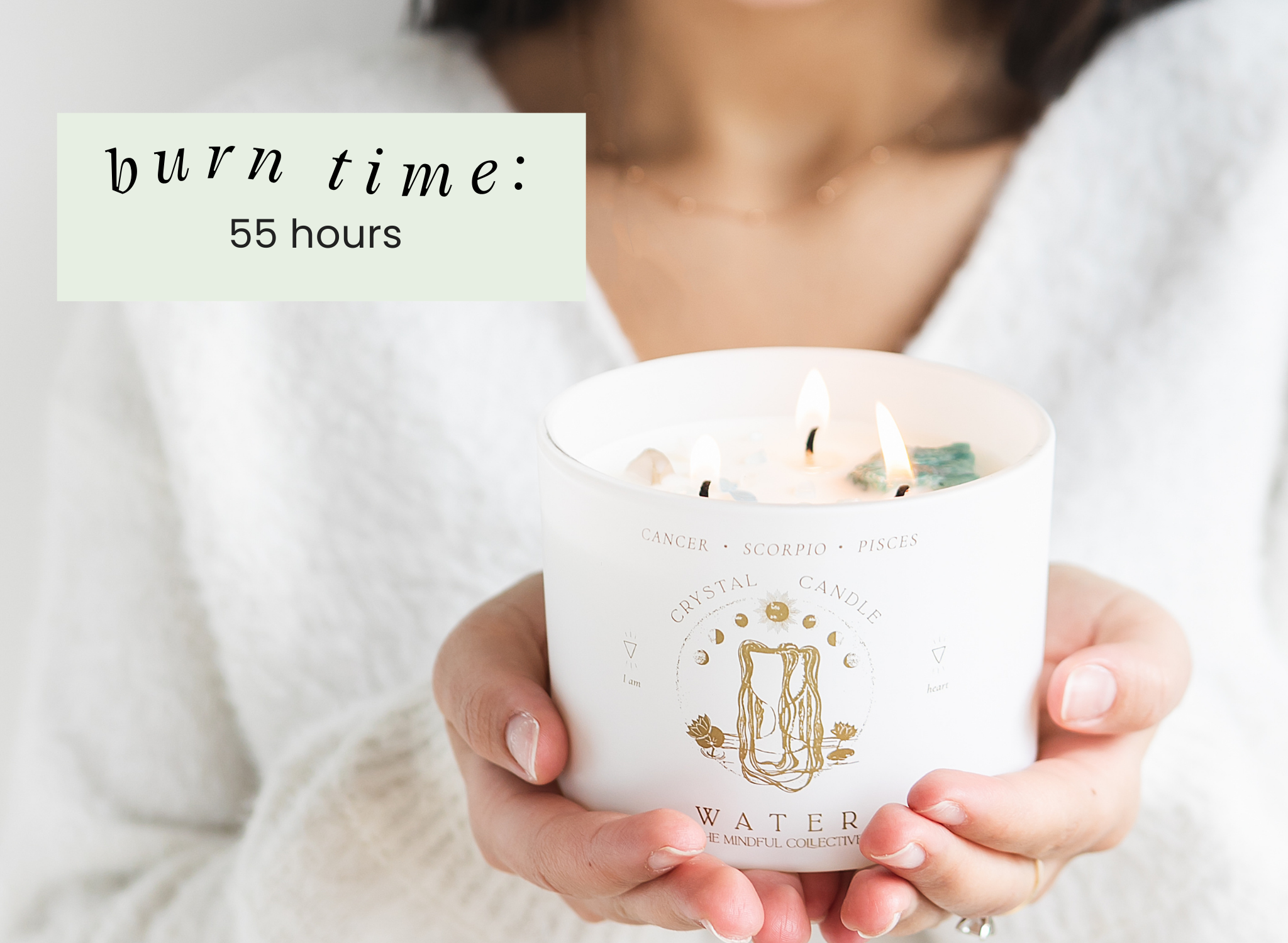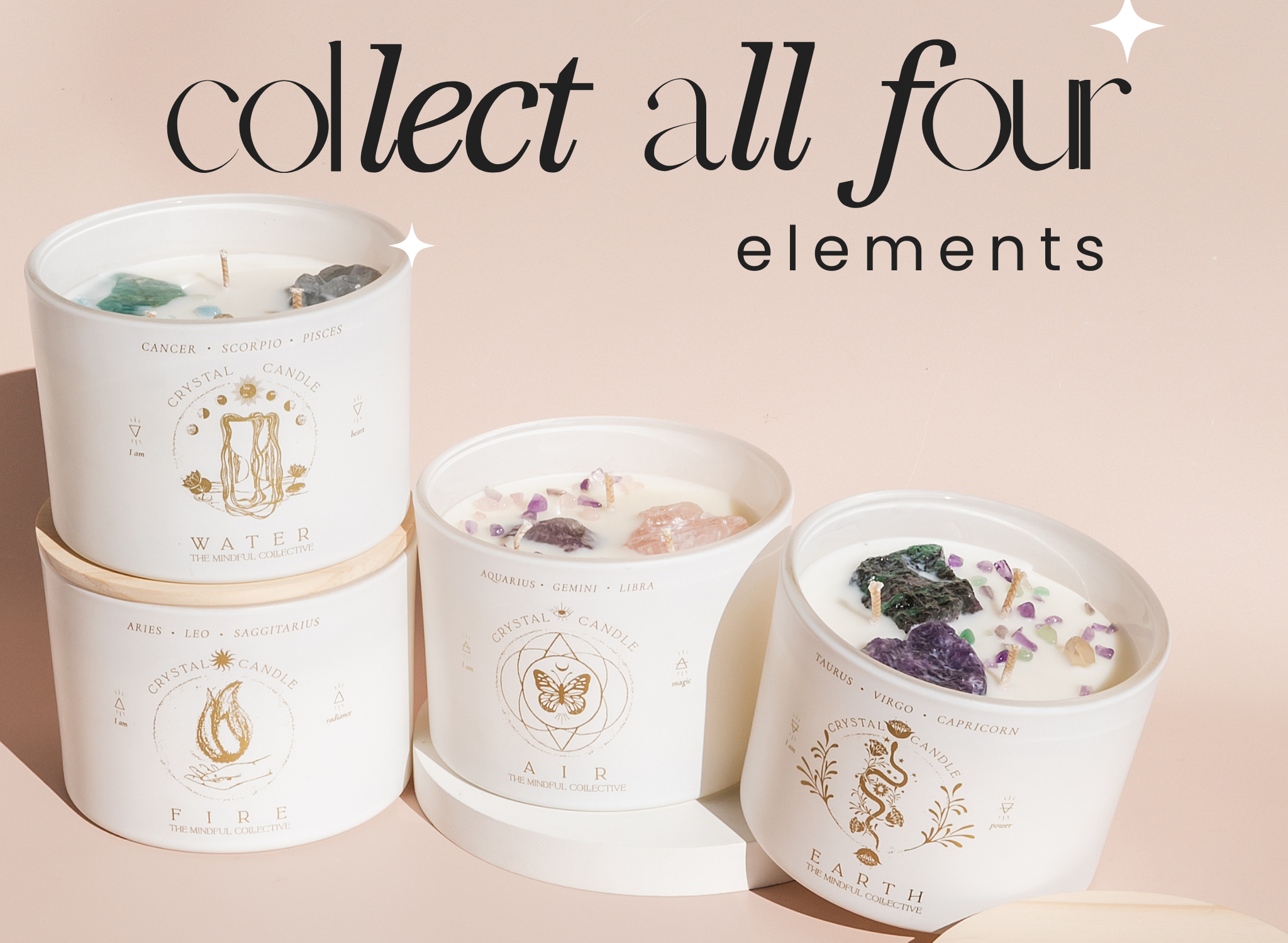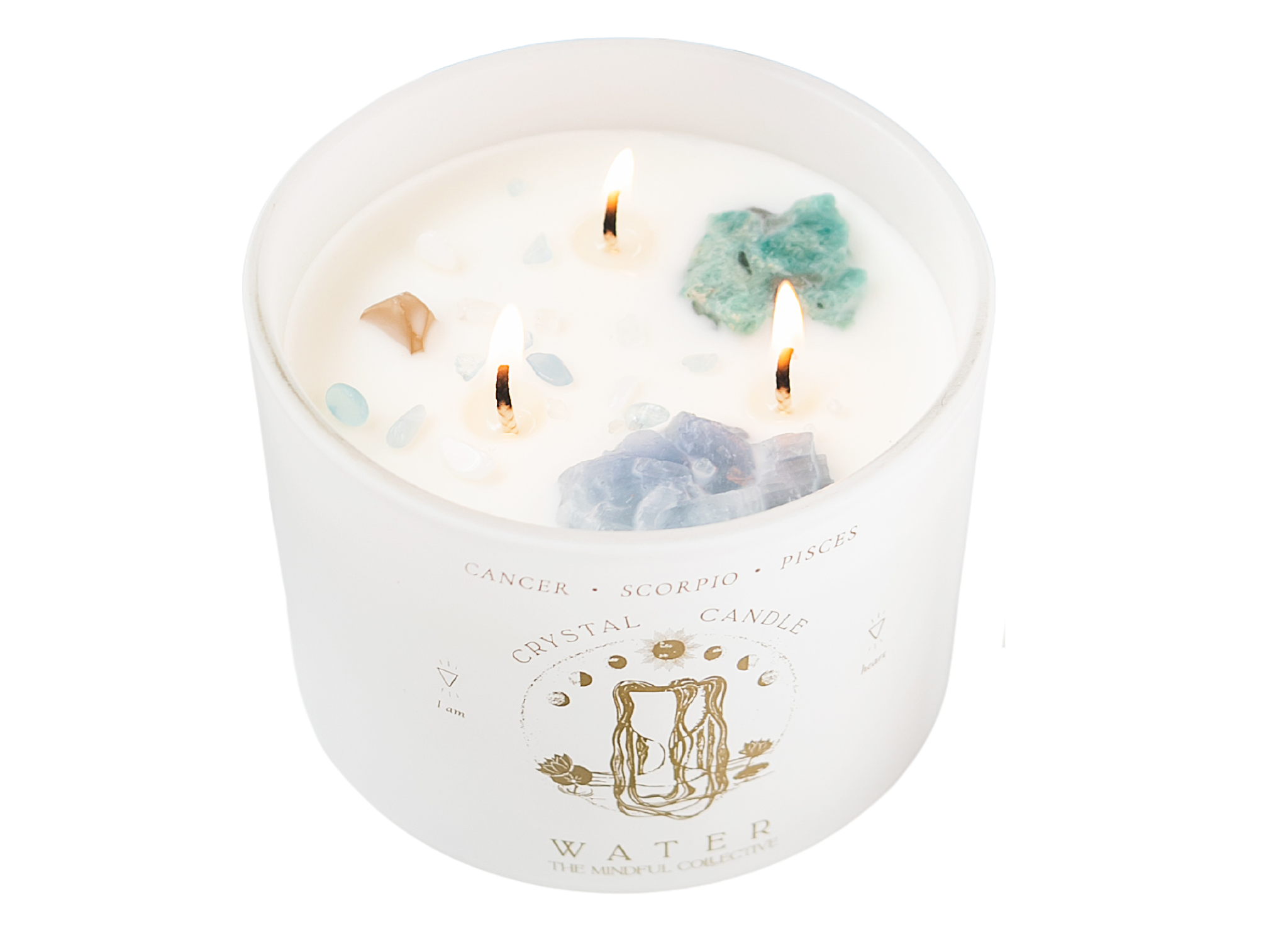 12oz - Water Element Candle
A Crystal Candle for Cancer, Scorpio, and Pisces
Description
Shipping & returns
Our products
A 12oz Crystal Candle with Blue Calcite, Amazonite, and Clear Quartz. Made for Cancer, Scorpio, & Pisces Astrological Signs.

Water Signs:
You are here to explore the depths, to be and feel it all. Let this candle remind you that your softness is your superpower.
Your Water Element Candle Contains:
100% Natural Soy Wax
100% Cotton 3 Wick Candle
3x Crystals -  Blue Calcite

, Amazonite, and Clear Quartz Point

Crystal Tumbles
Scent: 

A crisp blend of bergamot & mandarin notes

12oz Candle
Add To Cart: Free shipping for USA orders above $50 USD. Otherwise, $5.95 flat rate USA shipping.
Buy With Prime: Amazon Prime Members can select "Buy With Prime" for free 2-day shipping with Prime.
Each of our products is conceptualized and designed in-house by Aidan & Alexandra. When needed, we hire local small businesses across all aspects of design - graphics, photography, website. We source all products & crystals from top suppliers across the world. Our crystals are hand selected and ethically sourced from Madagascar, Caribbean, Mexico, China, and Brazil.
12oz - Water Element Candle
BENEFITS
CURATED FOR THE UNIQUE ELEMENT OF YOUR SUN SIGN
Connect to yourself on a deeper level. Do you identify with your astrological Sun sign, like, to a tee? If so, this candle was made for you, babe.
Each candle contains the crystals Blue Calcite, Amazonite, and Clear Quartz to enhance your beautiful softness of our gorgeous Water signs.
WATER SIGNS, YOU ARE HERE TO EXPLORE THE DEPTHS
Pisces, Cancer and Scorpio… you wondrous souls are here to explore, be, and feel it all. Let this candle and the carefully chosen healing crystals within remind you that your softness is your superpower.
THE PERFECT GIFT FOR SPIRITUAL SEEKERS
Looking for a meaningful gift that changes lives? This beautiful Element Crystal Candle makes a thoughtful gift for beginner spirit junkies or highly awakened souls that want to elevate their spiritual practices.
EXPERIENCE OUR LIGHT AND LOVE GUARANTEE
Thank you for trusting The Mindful Collective in your spiritual journey. Experience greater peace, light, and love after 30 days of consistent practice, or your money back.
WHEN TO USE
DURING YOUR ZODIAC SEASON
As if we needed any more reasons to celebrate our gorgeous Water signs. This was made for you, gentle souls - light this candle and allow yourself to tune inward.
MEDITATION + TUNING INWARD
Feeling the pull to connect within? Sit back, relax, light your crystal candle and set the perfect mood to get up close & personal with... you.
THE PERFECT HOME DECOR PIECE
Place this candle throughout your home -- on a display shelf, coffee table, centerpiece, bedside table, or in a sacred space-- to help you stay relaxed, grounded & connected.
HOW TO USE
HOW TO LIGHT
Place candle on a smooth, flat surface to ensure the wax burns evenly. Light each wick of your candle using any type of match.
REMOVING THE CRYSTALS
While the wax is still hot, use a metal spoon or tongs to gently move crystals away from the flame. When you're ready to remove them, slowly lift upward and rinse the wax off under running water.
READY TO GIFT
Buying this candle for someone special in your life? Our luxurious packaging is readily giftable, saving you time while also looking after our environment.
Chakra Healing
Balance, refine, and feel connected to your energy within.
Soul Connection
Connect to who you came here to be.
Authentic Healing Crystals
Hand picked, always top quality, & certified for authenticity just for you.
Thoughtful, curated luxury...
Unique, one-of-a-kind designs.
We believe aesthetic speaks to the soul. Each of our designs -- from product to packaging -- are carefully curated and considered with your spiritual practice in mind.
Set the perfect mood…
Impeccable luxury.
From 55 hours of burn time to extra large crystals inside, we've considered it all for you. Made of the finest sox wax, your candle comes packaged in a beautiful keepsake (or giftable!) eco box.
Allow this candle to add a dash of luxury to your self care routine. You'll proudly display this beauty in any room of your home, office, or studio.
Obsessed with this product! Decided to buy a Cancer candle for myself for my birthday & wow - the packaging & the candle itself blew me away. I've already shared the link with my friends!
Purchased for a birthday gift. Packaging and candle are beautiful. Will definitely purchase again
for gifts.
Beautiful smell amazing crystals it really helps me focus.. love it and burn time is great.
Why you'll love our candles!
Are the crystals authentic?
Absolutely. We source and handpick only the highest quality + grade of crystals on the market.
Where do you source your crystals from?
Our healing crystals are sourced across the world - Africa, Brazil, China, Mexico, and in some cases the Caribbean.
What crystals are in the candle?
The crystals inside the all natural soy candle are Blue Calcite, Amazonite, and Clear Quartz point. You can refer back to the product photos for size — they're quite large once the wax is melted.
What is the scent of the candle?
Our all-natural soy candle is a crisp blend of bergamot & mandarin notes.